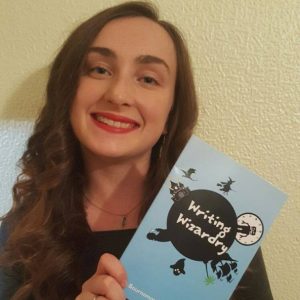 Hello! My name is Alice van Raalte, one of the publishing assistants at Fresher Publishing. I thought I'd chip in and give you a little insight into the magic that is the Wizardry Writing Prize and what we've been doing since the competition closed.
As you may know, the Wizardry Writing Prize is a competition aimed at younger children up to the age of 11, which runs alongside the Fresher Writing Prize. To get you young budding writers excited for the awards ceremony in May, we will soon be posting encouraging words from last year's winner Shakira and the wonderful prizes she chose.
For a more personal approach, have also recruited three sparkling new witches. These excited young women have been flying into schools to spread their story-telling magic. Unfortunately the witches had lost their spell book so it was up to the creativity and magic of the children to help the witches brew the best story possible.
Finally, our Writing Wizardry Judge Maz Evans is getting stuck into the all the incredible entries we have received and is super excited to announce the short list soon. In addition, Maz's new book, Who Let The Gods Out?! has now been released and is available to buy or order online.
Stay up to date as we'll have more wizardry coming your way soon!