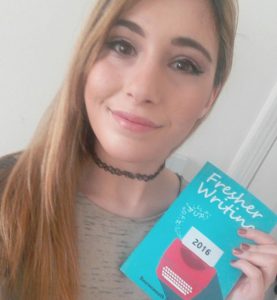 Hey there. My name is Tijen Nicole Butler, and I am a publishing assistant for Fresher Publishing. Here are some updates as to what the team and I have been up to, and what's next!
As you probably have seen, we have promoted the competition by creating press releases and sending them to different publications, as well as creating content for our social media. I have been put in charge of gathering content for a video for our website, which will contain interviews with the judges.
We have now started the long-listing process and will eventually have a shortlist, so we can start creating the Fresher Writing Anthology Volume 3. I already have ideas of how the book can be edited together, so I'm excited to start that process! Those of you who make it into the final shortlist will feature in the book, and be invited to the book's launch as our special guests. This Fresher Writing Awards will be held at Bournemouth University in May and it is where the winners will be announced. We will be working towards that to make sure it's a wonderful evening for everyone!
It's a fun and rewarding process, and if you're unsure whether you want to take part in it next year, I urge you to. As an aspiring writer myself, I can say that this is something you want to get involved in. It's definitely worth it!