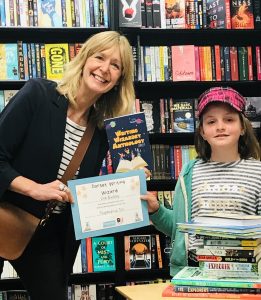 We were so pleased to be able to meet our Dorset Young Writer winner, Zoe Buckley, recently and award her with a hot-off-the-press copy of The Writing Wizardry Anthology – plus help her spend her £150 prize money on books in Waterstones!
The judges all loved Zoe's entry to The Writing Wizardry competition – and our fabulous author judge Ali Sparkes commented that the short story (about a surprising cluster of stones on a Tor on Dartmoor) had so much further potential, she could see Zoe developing it into an entire book!
Zoe, who attends Mudeford Junior School in Dorset, is a real fan of exploring the natural world, and many of the books she selected with her prize money were about just that. Her mother, who was on hand to help her said:
"It has been a wonderful experience for us,  and Zoe was quite overwhelmed by winning all of these books.
"Thank you very much for organising this wonderful writing competition – it means so much to all the children participating, and their families. "
Next year, the Writing Wizardry competition will be back again as usual, but with a different look and name. Look out instead for The Young Writers' Award – as part of The Bournemouth Writing Prize.
If you were shortlisted in this year's competition (or last), you can now see your work published in the Writing Wizardry Anthology, available here.