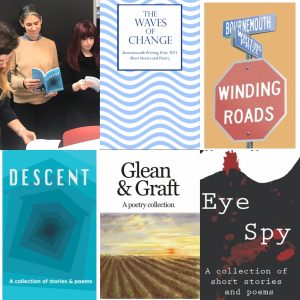 It's said that good things come to those who wait… and it's something of an understatement to say that we've all been waiting impatiently for the publication of the 2021 Bournemouth Writing Prize anthologies! Finally however, we have had the pleasure of unwrapping our delivery – and what a moment it was! I'm not ashamed to say there were tears – of joy!
We are delighted that these little gems are now available for purchase on Amazon (just in time for Christmas maybe!?) and we hope that you enjoy them as much as us. You can find them here.
A massive thank you to all of you who entered The Bournemouth Writing Prize, our fabulous industry judges and our editorial team of MA Creative Writing and Publishing students at Bournemouth University.
NB Our anthologies are not a compilation of all shortlisted entries but were curated in response to different ideas and themes, drawing from all entries to the BWP 2021. (Glean & Graft, for instance, is made up purely of poetry.) You would have been contacted earlier in the year if your entry was selected but if you are still unsure, or can't remember which volume you were selected for, we will be publishing a list of the selected contributors to each book here, next week.