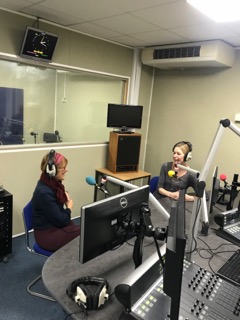 Since winning the Fresher Writing Prize for poetry in 2018, Lindy Newns has had one of her poems published in the Grenfell anthology, and was invited to read her work on a Manchester radio show. With another successful year of the Fresher Writing Prize behind us, we wanted to take the opportunity to reflect back on Lindy's winning poem and share with you some recordings of her work.
During the previous year of the Fresher Writing Prize, our judges were blown away by Lindy Newns and her poetry submission, Corporate Greed. With the optional theme of monsters in mind, we were especially impressed by Lindy's interpretation of the theme, focusing on a more metaphorical and intangible monster rather than a physical creature of some kind. Lindy said that inspiration for Corporate Greed came partially from her time spent working in a taxation office, where it used to get under her skin seeing people avoiding tax.
Corporate Greed
Rocks on yacht in the Bahamas, blimpish,
Belching, dropsical, shocking, eats its fill
From dying sea, dispatching fish and krill.
Blister kissing coral to whitened bone,
it sucks up shark, shrimp, squid, then, up the beach,
skewers baby seals on its pointed teeth.
Smug slug, slouching with an insouciant grin,
it sucks out the world's marrow – mouth strained wide
to bite and snatch and chew, and munch and grind.
Vain beast thinks itself smart, but, lips apart,
it gulps and paws the hollow at its heart.
A drooling chasm yawns.
It's terrified,
fears Death, but, sure as hell, it has to know
Death waits for us all and will be satisfied.
We were fortunate enough to conduct an interview with Lindy shortly after she was announced as the winner of the poetry category, as well as a live reading of Corporate Greed by the author herself. Lindy was kind enough to let us record a reading of her poem Conflagration as well, which featured in the Grenfell anthology.
We hope that you enjoy listening to these poems first-hand and we wish Lindy the best of luck in her future endeavours.