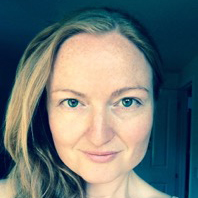 Hannah Persaud won the Fresher Writing Prize for Best Short Story 2016 with her story Cyfannedd Fach. This, along with Blanks Walls and all of the other shortlisted entries, can be found in the Fresher Writing 2016 anthology which can be purchased via our Books page.
Blank Walls
There's a new photograph on the wall, in the lounge this time. Estella spots it as soon she pushes through the heavy double doors that lead from the drab fourth storey landing into the well-lit apartment. With the strap of her travel bag slung over her shoulder, she sidesteps the merino rug and leans over the oak sideboard to get a closer look. It's definitely him. Antonio. She rolls his name around on her tongue, silently.
Seven years older than he was in the first photograph she saw of him all those years ago. The years have weathered him tenderly. His dark laughing eyes meet the camera, challenging the photographer to capture the view; black windblown hair sweeps across his brow. Behind him the Alps stretch out like undulating meringue peaks, Mont Blanc rising triumphantly to his left, king of the mountains. Estella leans closer. Something is different. Her eyes rove from his face to his jacket sleeve and then to his hand which rests against his ski pole.
There is no ring.
"Are you going to give me a hand with these, darling?"
Estella turns to see Mark struggling to squeeze through the doorway with the rest of the bags.
"Careful –the pot – watch the…"
The potted palm by the entrance crashes into the wall and fragments of cobalt china scatter over the smooth wooden floor like loose snow.
"Great start." She tosses the words at Mark and approaches the cupboard under the sink to retrieve the dustpan.
"Perhaps if you'd bothered to help carry them in, that wouldn't have happened. You knew we had more stuff than normal."
Her jaw tenses as she sweeps up the last of the broken pieces, putting them into a bin bag along with the remains of the soil.  The palm tree sticks out of the top of the bag, life draining out.
They unpack quickly, his drawers are on the left, hers on the right. The bedroom is exactly as it was when they left it a year ago, and the year before that; the crisp white sheets could be the very same ones.  t's as if the apartment has been waiting for them all along.
In the lounge the room breathes out as she throws open the shutters, drinks in the view of the Avenue Rene Coty, the unrelenting queue for the Catacombs on the corner to the left. In the distance, to the right, the green Parc Montsouris simmers in the afternoon sunshine, a respite against the dry streets. In London the parks are staged nods towards gentrified pasts, but here in Paris they feel like glades amongst the city's sprawling streets, pulsing with art and the promise of love. She loves this view, this city.
A part of it belongs to her for two weeks of every summer, has done for the past seven years since they stumbled across this place when searching for a last minute city break. "Beautiful apartment in central location in Paris, 2 minutes from Denfert Rochereau metro station. A home from home." Unease crawls into her drying mouth as she recalls their joyous abandon the first time they'd walked through the door.
"It's spectacular," Mark had said as he peered out of the window. "Come here."  She had joined him at the window and his arm had slid around her waist. His lips had turned to hers and soon they were making love on the sofa. Antonio's sofa in Antonio's lounge. She shudders.
"Where shall we go for dinner?" Mark says, as she knew he would.
"Why do you bother to ask?"
"Well. It's half seven, we've been travelling all day and I'm ravenous. Is that reason enough?"
"I'm hungry too, I just don't know why you bother to ask when we know exactly where we'll end up."
"Stop being so grumpy and lighten up. We're on holiday for God's sake." He nudges her with his elbow playfully.  "We could try somewhere else, go for a walk, see where we end up.  Let's go wild."  He winks.
Two hours later they are seated at their usual table on the familiar terrace of the same restaurant that they always go to.
"Told you we'd end up here." Estella rummages in her bag. "I've gone past the point of hunger now." She watches him in silence as he eats his steak frites, working her way through the litre of vin blanc that sits between them.
Back at the apartment, Mark is snoring within minutes of his head hitting the pillow, but sleep evades her. Wandering to the bookshelves in the lounge she runs her finger over the books that line the walls, two whole walls of books.
What it must be to be with a man who reads so much. Mark didn't even bother bringing a book on holiday this time. There are a few new books that were not here last time, the latest Murakami, a French author she's never heard of. Opening the front cover, a message For Antonio, with love, Michelle xxx.
Michelle – was she the woman in the photos that last time that they visited? They had ruined her mood for the whole visit, those images of a dark and sultry eyed woman with stormy hair pouting at the camera, Antonio behind it. Was that this Michelle? Or simply a muse? He was a photographer after all, he must come into contact with any number of models on a weekly basis. Well, they were gone now, those photos, along with his wedding ring, so whoever Michelle was, she was no longer here.
Estella smiled. Yes, this visit would be a happier one. Not like the one four years ago, when they'd come still reeling from the news that they could not bear children of their own. A break from it all, that's what we need, Mark had said, and then flung open the doors of the apartment to find the whole place littered with images of a new born baby nestled in a joyous Antonio's arms, suckling at the breast of its mother (a blonde curly haired woman whose figure looked far too lithe to have just given birth) – a bouncy chair tucked in a corner, a changing mat hanging from the door.  he presence of the baby had sulked in the rooms and sullied their mood for the whole two weeks. It had been a relief to leave Antonio and his perfect life behind when they boarded the Eurostar at the Gare du Nord.
Estella walks again to the photograph on the wall, leans in close to the rugged face that stares back. She wonders if he has gone to his coastal cottage in Normandy this time, or if he has gone farther afield – she found ticket receipts in the recently emptied bin earlier. They were ripped up, but when she put them back together like a jigsaw the word Venice emerged like a glittering promise.
Venice. She'd love to go there, but Mark would never take her, that's for sure. A man like Antonio would take her to Venice though, wouldn't he? A man who roamed freely through life with a twinkle in his eye and a hand that would hold hers firmly.  Poor Antonio, unlucky in love. Where is the baby now? Probably with the mother, deprived of a life with a father who would provide everything that any child could want – art, travel, adventure –skiing in the winter, lake swimming in the summer (last year, a photo of Lac D'Annecy had been here, where this photo is now). Poor child. Poor Antonio. Walking to the kitchen she pauses, remembers a drawer that was left unlocked last time. Careless of Antonio. Unusually so.
She walks to the desk in the corner where Antonio would sit, leans her elbows where his would rest whilst he searches for creative inspiration. She hasn't been able to stop thinking of him. Leaning down she grasps the brass handle of the drawer and tugs it. It doesn't budge.  She searches for a key in the tobacco tin that holds paperclips and pens, but to no avail.
Why would he lock the drawer this time, but not the last? Surely he was glad when she found it open last time, for if she hadn't she would not have come across his personal email address (the booking website does not allow for direct contact with the owners). And if she hadn't found his email address, then she would not have been able to contact him, and they would not have enjoyed the flurry of communication that they have over the past twelve months, emails that started as formal notes but rapidly progressed into longer passages, sharing stories of their lives, their hopes and dreams. He hasn't written to her for a while now, not since he told her that he felt uncomfortable developing this closeness (the very words warmed her heart) at least, whilst she was married to another man.
That explained why he never spoke of a partner or a baby when he wrote then – he was a gentleman at heart, a man of honour whose values shuddered beneath the burgeoning weight of this attraction to somebody else. He was frightened by the strength of his feelings. She likes him more for that, though that final email hurt. She has a plan though, a plan that will fix everything, put everything right. That photo on the wall is for her, that expression on his face, the ring free hand. She walks quietly back to the bedroom where sleep finally comes and she dreams of waking in his arms.
The next morning Mark is happy, refreshed. He wants to make love, moves his fingers against Estella's thigh under the cover.  She pushes his hand aside –the idea of such an act in Antonio's bed is unthinkable. She ignores his sulking over coffee.
"What shall we do today?" He suggests the Louvre and the Arc de Triomphe, and in the end she agrees to a walk through Sacre Coeur, because something needs to fill the time between now and what is about to happen. The two weeks feel interminably long now that she has a plan, this formerly entrancing city feels tedious with its tourist-stamped streets.
Monday. Their last morning before they catch the train back to London.  It is her birthday and she can think of no greater gift than the one she is about to bestow upon herself. The cleaning of the apartment and the packing of their belongings feels perfunctory. She exercises extra diligence to compensate for her fluttering heart. The next time she sits at this table will be with him, the next bottle opened, for them. Antonio and Estella. Their names fizz upon her tongue like popping candy.
Mark is preoccupied, his mind already back in his office in Marylebone. She doesn't mind. It's strange how little things cease to be annoying once there's a bigger plan.  Putting the final items into her holdall, she slips her train ticket underneath the bed. In the hallway Mark runs through his pre-travel checklist before they leave the coolness of the building and step onto the sweaty street. At the Gare du Nord the next departing train flashes on the departures board, and as they walk towards the departure barrier Estella rummages in her bag.
"What's wrong?" asks Mark, as she kneels on the platform and starts emptying her bag.
"I can't find my ticket. Here, there's yours." He holds out his hand and she places the ticket in it. A hairbrush, wallet, a tampon; the contents of her bag form a pile beside her and Mark shuffles impatiently.
"They're calling our train; we need to go." He runs a hand through his hair.
"I can't find it, it's not here," her voice rising slightly she looks up, flushed.  I must have left it back at the apartment, I'll have to go back to get it. It's an open return so I can get the next train."
"I'll come with you, I can get the next train too."
"No darling, you have that conference call scheduled with New York later. I can't make you miss that because of my mistake. Honestly, I'll see you at home later. It's fine." She watches him struggle between loyalties.
"If you're sure…" He leans forward and places a kiss on her forehead. "We'll get take out and a bottle of champagne to celebrate your birthday, I'll plan it. Oh, and take this, don't open it until you're on the train." He passes her a card from his pocket.
"Thanks love." Estella marches back down the platform without a backward glance.
The journey back across the city vibrates with her thundering heart. The city spins past the window, trails of music from the buskers winding through the carriages. At Denfert Rochereau she slows as she walks up to street level, she smooths her hair and puts on her lipstick. She knows that she looks good for her age, sees men checking her out from behind their newspapers on the commute to work.
Checking her watch she smiles – good, three hours since their checkout time and Antonio runs his schedule like clockwork, always returning their deposit within five hours of their departure, after he's checked the apartment. He should be there. Walking up to the door of the building she buzzes number eight – it's the first time she's ever pressed the button. A thrill runs through her. She waits, head tilted.
"Bonjour?" a man's voice answers.
"Bonjour, hello. This is Estella. I forgot something in the apartment."  Silence strains against the buzzer.
"Hello?" she rests one knee against the door, bends her head. Passers-by are looking at her, shut out on the street. Scorned. Finally, a buzzer in the guts of the building vibrates and the door clicks open. She has to stop herself sprinting up the stairs. Up to the wooden doors that will welcome her back. At the entrance to the apartment a stout man stands sentinel like a meerkat. As she approaches he raises his head and appraises her with his milky grey eyes.
"Is Antonio here?" She is frustrated by the proprietorial angle of his body against the door.
"I am Antonio." Not a windswept hair in sight on his shiny bald head.
"No – there must be some mistake. I am looking for the man who owns this apartment, I rent it from him. I know him."
"Please – come in." He gestures her in with an abrupt sweep of his short arm.  In the lounge she stops. The walls that just hours ago were populated with photos and prints are now bare; against the wall, a stack of canvases displaying various comic strips.  The bookshelves of her ideal man are bare except for a few transformers and a plastic spider man. The man purporting to be Antonio looks at her apologetically.
"The next tenants are comic book convention members," he mutters. In the corner the Murakami lies dejectedly beneath a pile of penguin classics, its cover bent.
"I don't understand" she squeezes the words out.
"I found your note."  He waves at the note that she so painstakingly wrote last night, so carefully balanced on the table after Mark's back was turned and descending the stairs.  It lies open and exposed. A dull heat rises through her body.
"But what about the photos of the baby, the woman, the ski trips?"
"All borrowed from other lives."
"And the books?"
"I don't read, never have. Never set foot on a ski slope either. There is a group of us who rent our apartments out. We rotate the décor based on our guests. Everybody wants the fairy-tale."
"Why did you write back? Why pretend to be someone you're not?"
"Who would not be flattered by the attentions of an English rose?" His eyes rake over her. She had sent him photos.
"But I risked everything to be with the person you pretended to be. My husband…"
"Is right here watching you." She stiffens at the sound of Mark's voice, turns to find him leaning against the doorway.
"You left the keys to the apartment in my pocket, I found them just before the train left. I brought them back."  He tosses them onto the floor where they clatter. And suddenly, in the space where Estella has chased a life sketched on blank walls, she sees what she has missed.
"Mark, I can explain, wait."
Mark turns away.
"Please, Mark, I'm sorry –this was all a misunderstanding, just…"
Turning back to face her, he spots the note on the table.  He strides over and reads it.  Time slows in the foamy silence.
"You were going to give it all up? Well that explains everything." His face locks and she knows it is too late. As he leaves the apartment he exhales his last breath of absolution.
"Mark, please, wait." She hurls the words at his departing back. Estella is gripped by the certain knowledge that the man who has loved her all along so very well is leaving her for good.
On the train she shuffles restlessly in her seat, remembers the card from Mark that is in her pocket. Opening it, she sighs at the kitsch puppies on the front, a long-standing joke between them. Happy birthday my love, let's make this a trip to remember. A plane ticket to Venice falls out onto her lap.