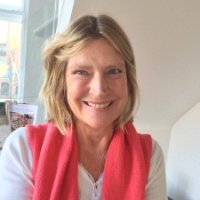 Pansies by Stephanie Ginger won the Fresher Writing Prize for Poetry 2016. Stephanie's poem, along with all of the other shortlisted entries, can be found in the Fresher Writing 2016 anthology which can be purchased via our Books page.
Stephanie recently recorded a podcast of her poetry with us at Bournemouth University, an excerpt of which can be listened to here.
Pansies 
What made me dig the pansies up that day?
Why then? And just as life was inching out.
weak sunlight skewed in shafts across the land
you left; my boundary blurred as wild gorse spread.
That sheaf of papers, signed in acrid ink
to sour the snowdrop air, to tear you from my earth.
No mention made of floods, then drought, or how
our seedlings watered, flourished, put down roots.
Must I divide them, ragged as they are?
Those blue-veined buds curled inwards in their bed,
suspended in their shrouds of winter frost.
No. Rather fork it over, turn the sod
And let it fallow, space to think things through,
an unspoiled gift with room to plant anew.