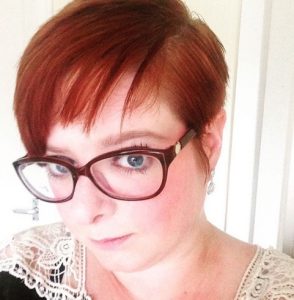 Helen Dring is a writer and teacher of Creative Writing in Liverpool. Her piece Encantada won her the Fresher Writing Prize 2016 award for the First 500 Words of a Novel. Helen has an MA in Novel Writing and enjoys writing children's fiction with roots in fairy tale. We caught up with her to ask a few questions about what it was like to win the FWPA and where her writing is headed in the future.
 What have you been up to since winning the Fresher Writing Prize? Any exciting projects on the horizon? 
 I'm writing another novel – a Young Adult novel about a teenager whose best friend goes missing, so that's my current exciting project. I also teach Creative Writing at A Level so I've been busy getting my students through the exam season!
You won our prize for the first 500 words of a novel, is novel writing your preferred genre or do you dip into any others?
 I prefer novel writing, I like taking an idea and really getting to grips with it, but I do write in other forms. I'm also a poet, and perform fairly regularly in Liverpool where I live. I write short fiction, too, although strangely I seem to be successful in writing either novel length works or stories under 1000 words. That middle ground is a mystery to me.
What was it like to win the Fresher award and how will you be spending you prize money?
Winning my prize was such an exciting moment for me. I wrote Encantada for my MA in Novel Writing in 2012, and I'd entered it in competitions previously with no success. I was beginning to think I needed to shelve the idea and move on, even though Magdalena and her world are so dear to me, so winning really gave me the impetus to keep going. As for the prize money, I'm not sure yet how I'll be spending it – perhaps some fancy writing equipment would be a fitting use.
Encantada concerns General Franco who played an enormous part in Spain's history. How much do historical events influence your writing?
I'm a big history buff, so I do like to write about moments in history, especially recent history as there are so many pivotal moments that aren't always talked about because they're just a bit too recent to feel historic, but they influence the world we live in greatly. I like to explore where we came from. Plus, the period immediately after Franco's death was just an explosion of art, fashion and youth culture in Spain, which makes it such an exciting era to set a novel in.
The 500 words in our anthology are just a taster of your work – what could we expect from a full length novel of Encantada?
The full length novel follows Magdalena as she experiments with her freedom. As the dictatorship collapses, she meets people who have very radical ideas that challenge the beliefs she always had. She also begins to find out secrets about her own family, that make her question whether her future is with her family or her new love interest. It's really a good story – hopefully you might be able to read it some day.
Do you have a favourite book or writer and do you think they have influenced your on work? 
I have too many favourite writers to mention. In my personal reading I love Jeanette Winterson, Roxane Gay and Susan Fletcher. In terms of my writing, I was influenced most during writing this book by Carlos Ruiz Zafon and Isabel Allende for the Hispanic influence.
Do you have any top tips for someone entering next year?
I'd say to enter even if you think you don't stand a chance of winning. I entered to give Encantada one last shot at impressing someone and, only a few months later, I've had lots of people tell me how much they love it. It's zero risk to maximum reward.
Fresher Writing 2016 is now available on Amazon and Amazon Kindle. More information can be found on our Books page.